The Push up Challenge v5.0
Push up like a girl?
Nah, I push up like a middle aged women warrior
Feeling middle aged and want to devolp inner as well as physical strength?
Looking for a way to motivate yourself to exercise post-menopause but 'go hard or go home' is not working
The Push up Challenge V5.0 was designed just for you!
Click Here to Buy £22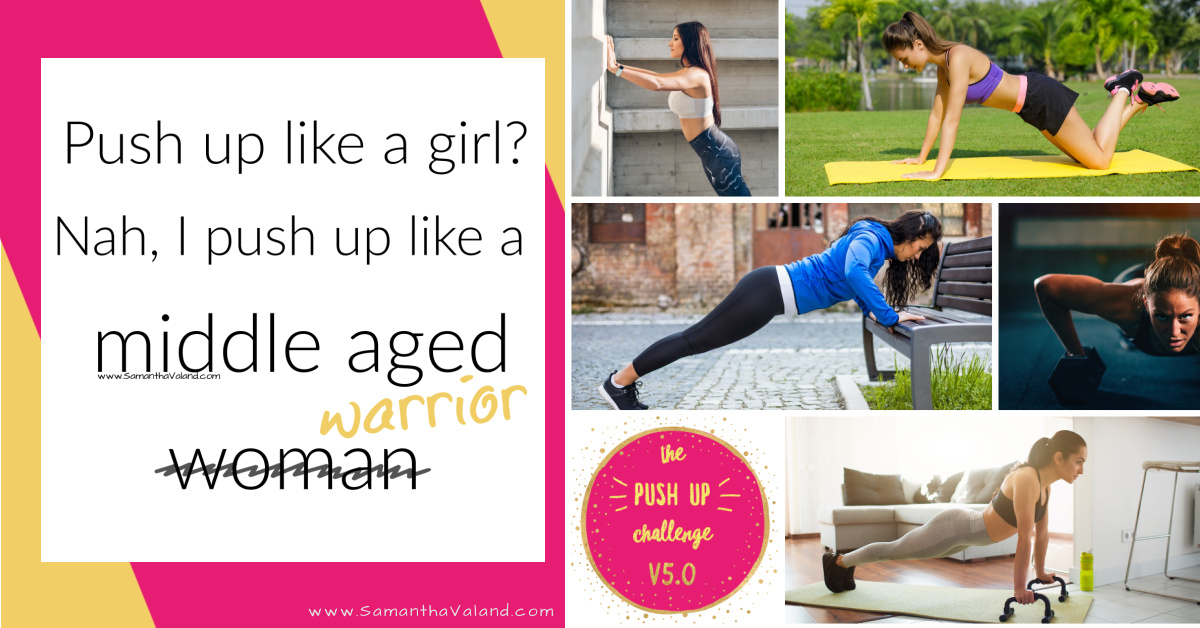 You have found yourself the other side of the menopause (yay) but getting back into a regular exercise routine is not as easy as you expected.
You know you need to exercise differently but not really sure  how to do that.
The Push up Challenge V5.0 is not just about push ups although it's a big part of it obviously.
It's also about how you exercise today and healthy ever after.
It's about exercising with a big grin on your face and enjoying it again. (and yes this is often grinning when you have done the thing rather than doing the thing!) but it's definitely about the grin.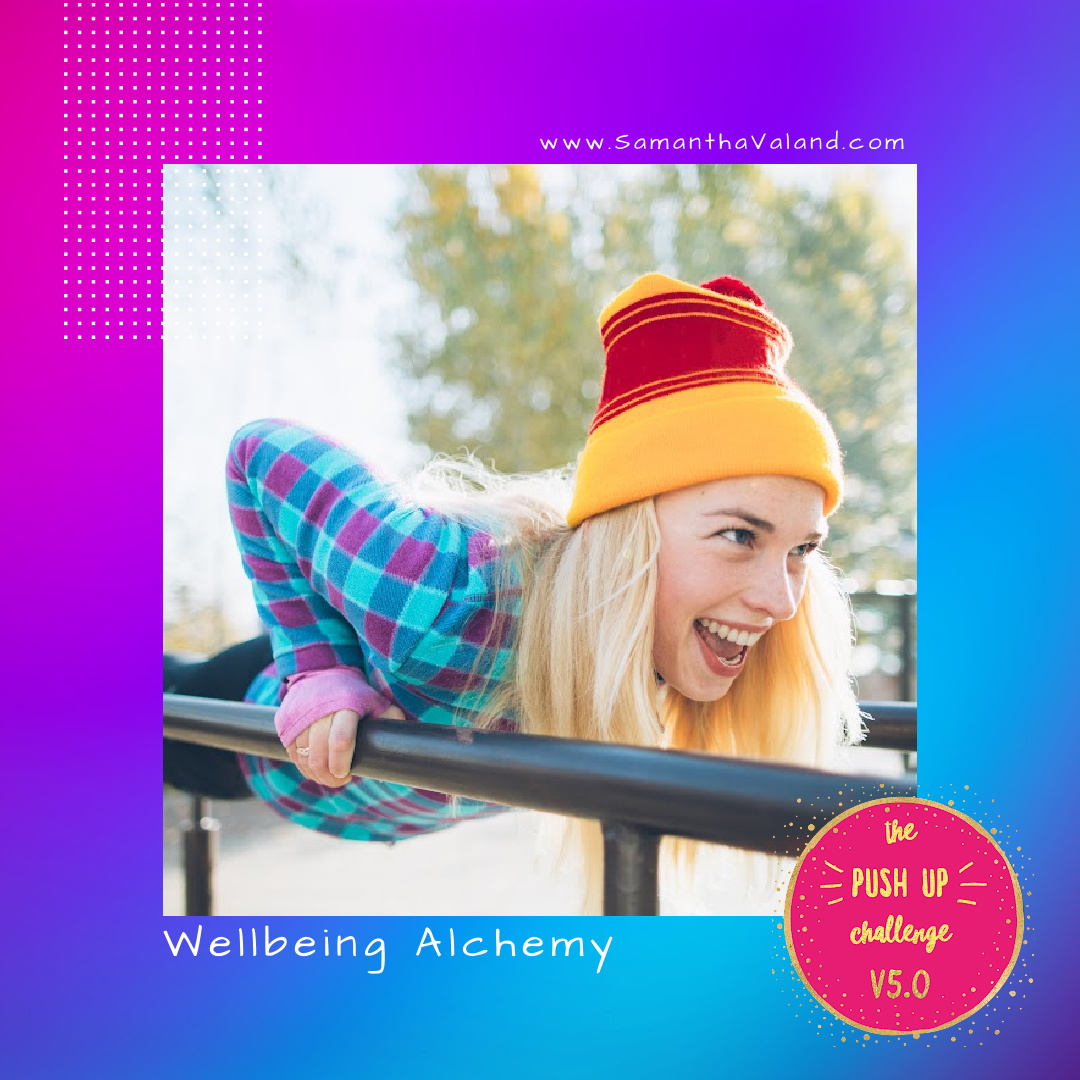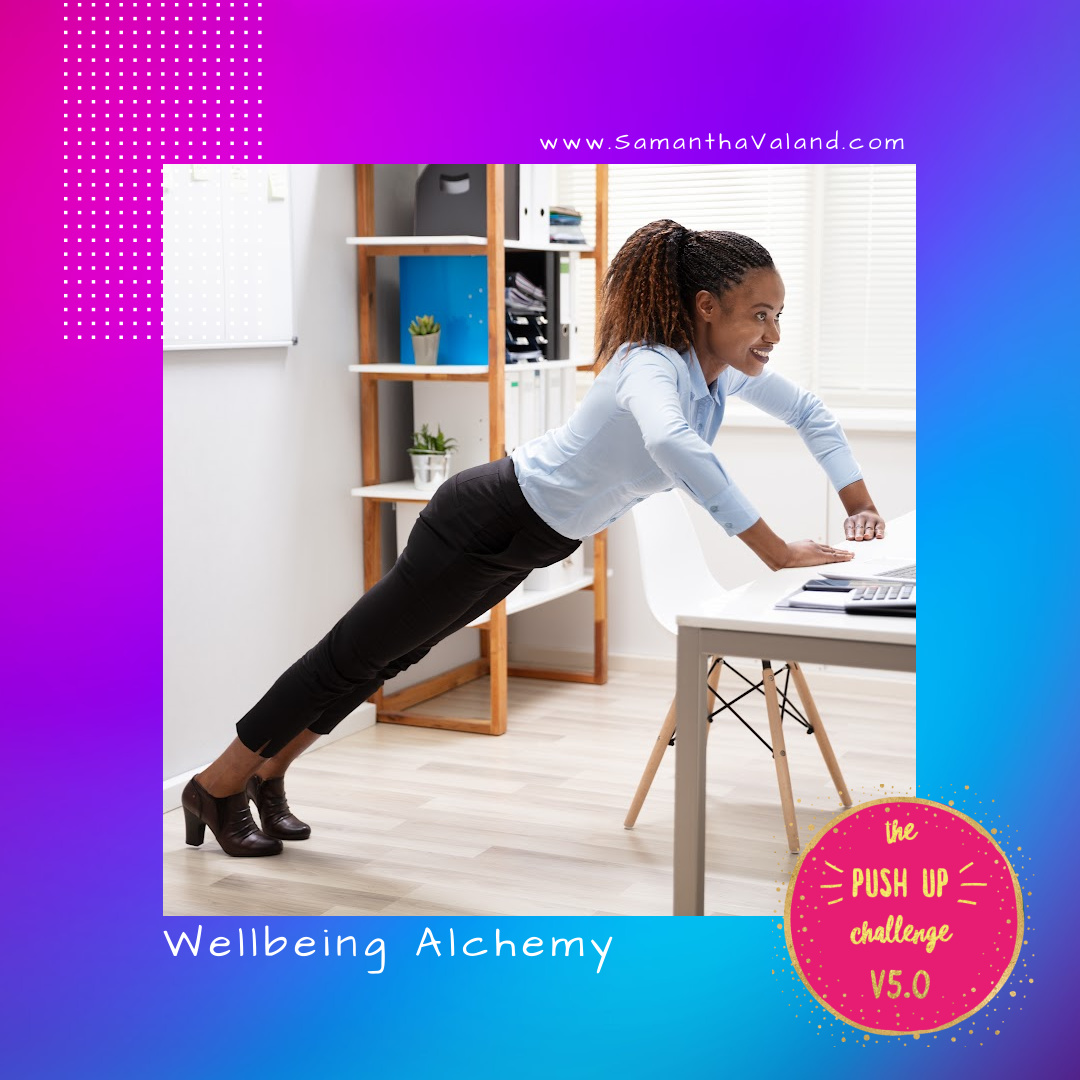 You wish someone would just tell you want to do instead of 'just do what you can'.
But you also know that is the old way of doing things.
The new way, is to personalise your workouts not to blindly follow other people's exercise plans – with a 'it worked for them so it must work for me' mindset although listening to their opinions and wisdoms is always golden
Your own experience and wisdom through taking deliberate action is where you join the dots and often surprise yourself! But it is also about when you don't take action and figuring out why not.
Although you have exercise because it's good for your health in the past, the calories you burn may have impacted your exercise decisions.
Now, it is all about exercising for health and healthy ever after, because you want to be the old lady in the class knocking out the full push ups when the youngsters can't manage them!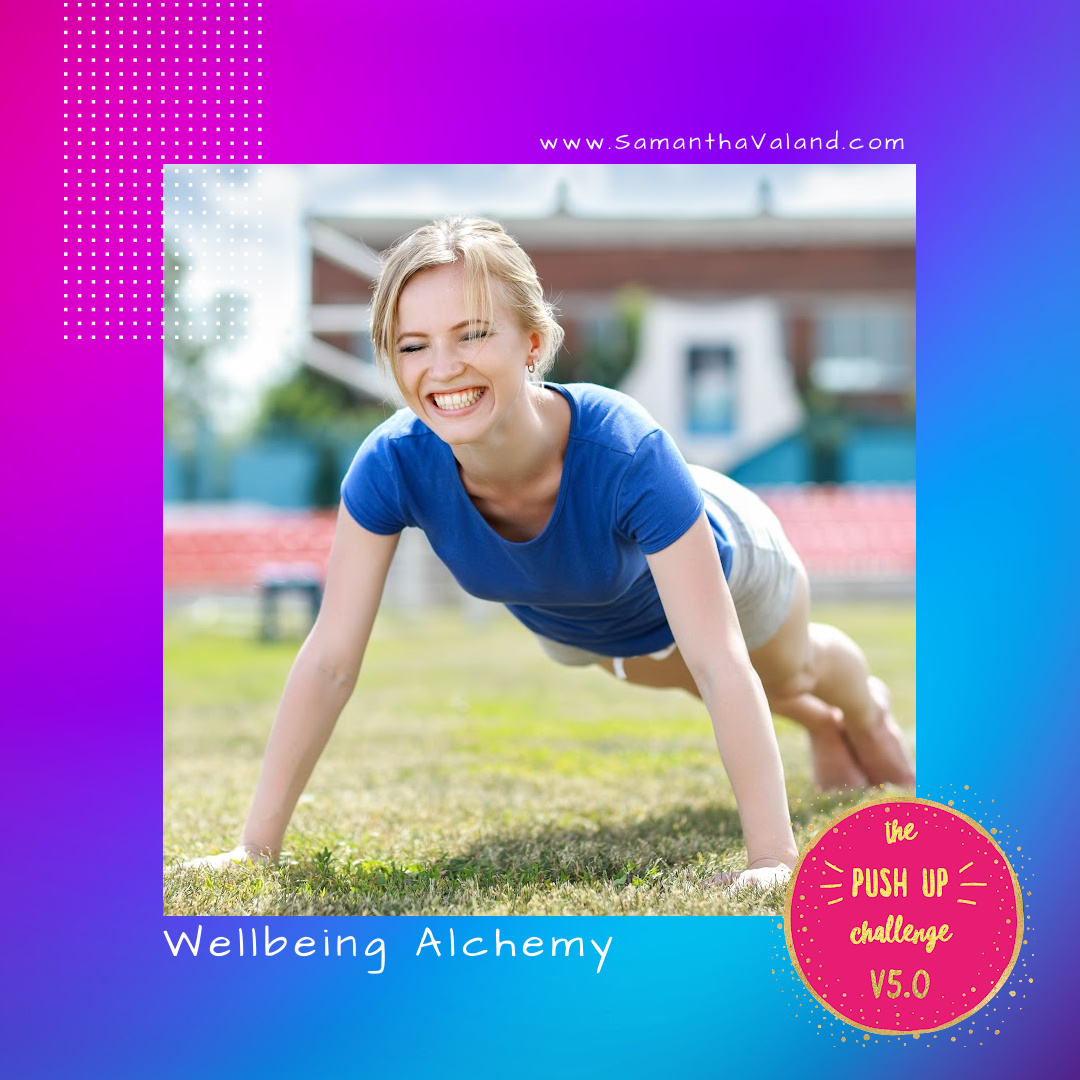 Why Exercise?
Physical Health
Mental Health
Challenge yourself
Get to know yourself
Fun
Community
Connection to God/spirit/universe
There are many benefits to exercise, and I'm sure that you know them all already! At different times of your life, there would have been a spotlight or focus on one thing to help you achieve your goals
The way that you exercise and the exercises you chose to do is personal to you, and it's up to you to figure out how to do that.
I can't tell you what you like, but you can tell me what you like and what's hard for you and I as your personal trainer can adapt to do that.
We have all grown up with 'no pain, no gain', but also 'no fun, rarely done'
Progressive Programme
This challenge is a progressive exercise programme, which means we are starting at the beginning with beginner's push ups and work your way through move difficult movements finishing with full push ups.
There will always be something you can do, and you may surprise yourself.
There is flexibility to this programme so you may take as much time as you need through exercises you find more challenging, and perhaps quicker through ones that you feel don't need your time.
One thing I notice is that, many classes I attend are very different every week, there isn't anything much that binds them altogether over a month. This isn't progressive, it's varied and that can be why you are on an exercise plateau.
This challenge and progressive programme in general help you to recognise what exercise are technically easy but that you find you hard, and harder exercises that you find easy!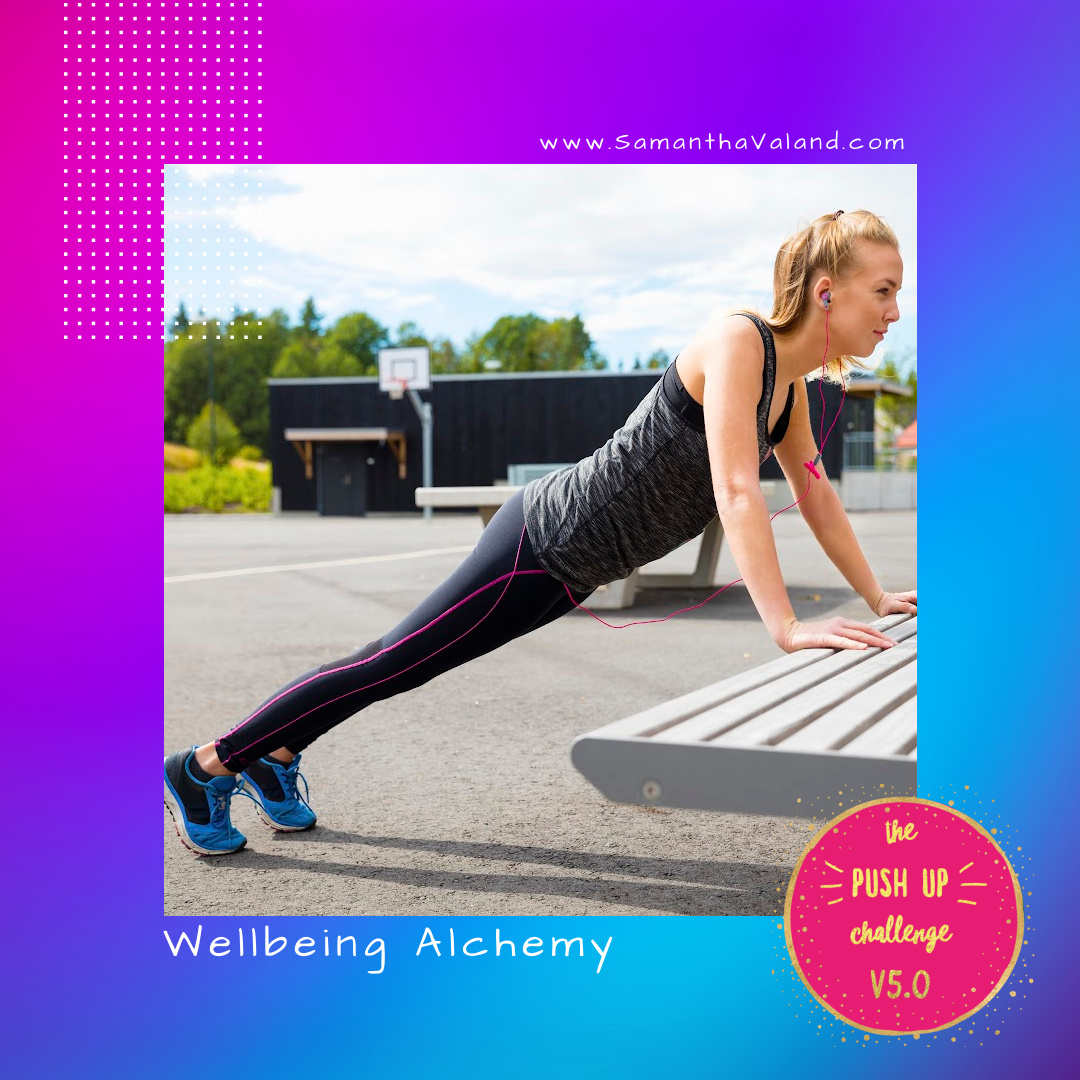 Challenge #1
The push up fitness test is where you perform as many full push ups in a minute.
This is an ongoing challenge which is repeatable and measureable
Challenge #2
Challenge #2 is the meat in the push up challenge sandwich!
There are 9 distinct exercises (upper body push up strengthening exercises) with 34 variations in total.
It can be 9 weeks or 9 months duration depending where you are!
challenge #3 - Surprise 🙂
This last challenge is a surprise, but not time-consuming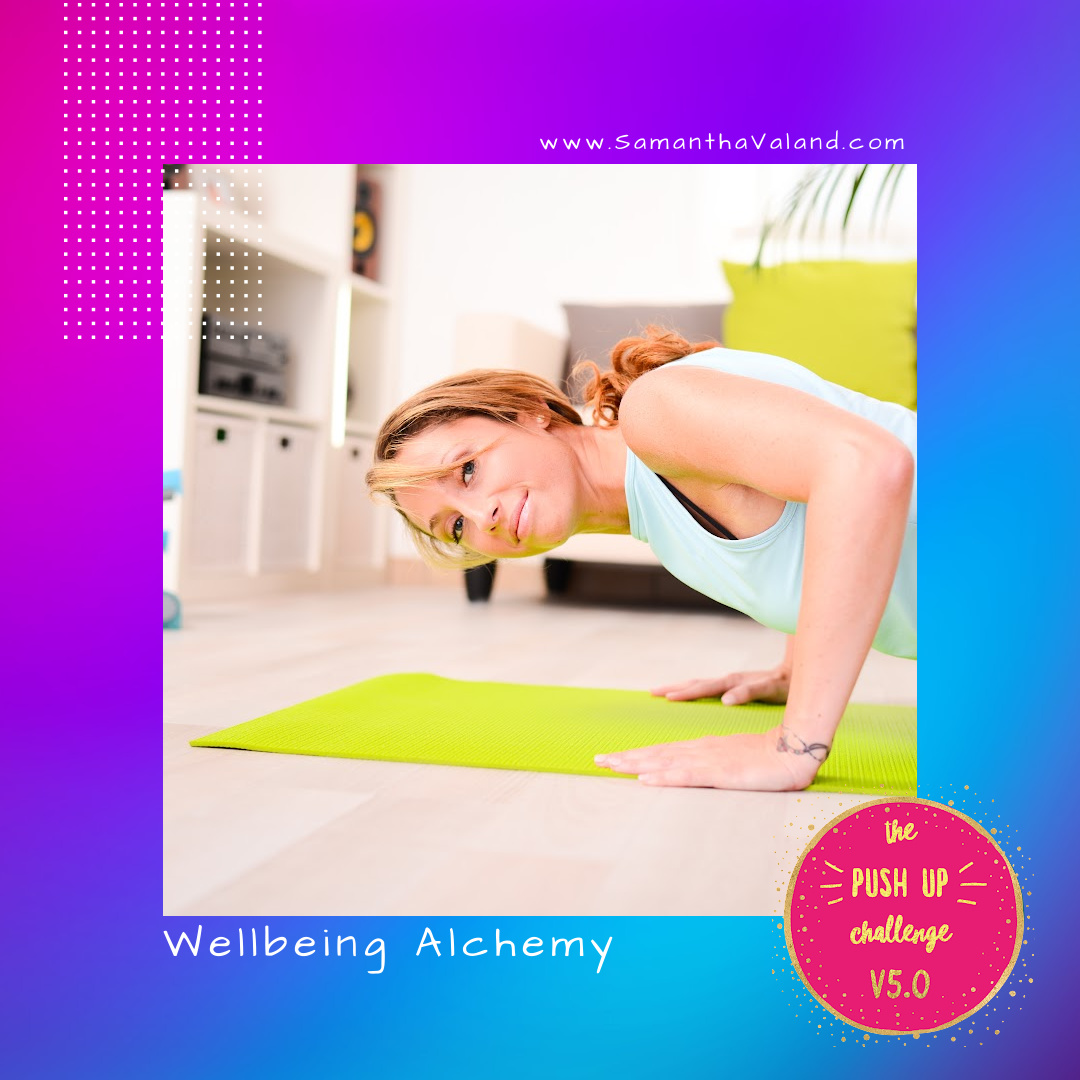 What Do You Need To Do This Challenge?
Already have an exercise routine in the gym that you are regulary following
Push ups are a body weight exercise, so you don't need any weights to do this challenge. There are a few exercises that are best suited to a gym and the kit that is available there
Useful to have feedback on your form, this can be in a class, 121 session or videoing yourself
Attitude that number of push ups you can do at the end is only part of the challenge – it is also about the journey of getting there!
If you are wondering if this challenge is for you.
I have created a wee quiz to help you decide. It has a Goldilocks approach, for some it will be too basic, for some they may need some foundational work and for other it'll be just right!
The masterclass videos are not exercise instruction videos, they are challenge instruction videos. You can watch the video to see if the style suits you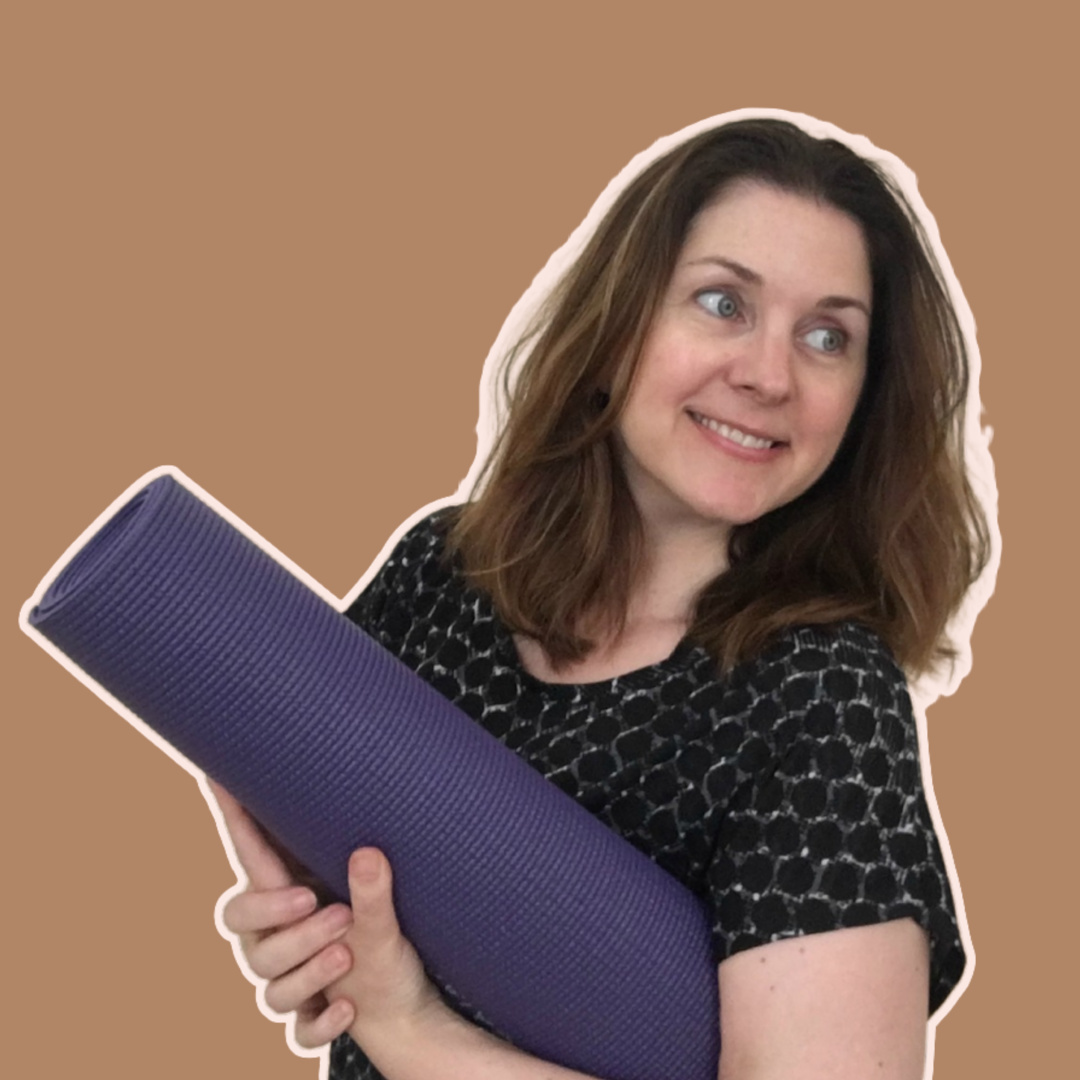 In 2006 I trained as Pilates teacher and Personal Trainer, leaving the world of IT behind. While most of my clients successfully lost weight – usually men, a number did not – usually women. This was despite the women following exercise programmes and restricting their calorie intake. The "Eat Less and Exercise More" mantra was not working for everyone.
This interest lead me to concentrate on attending courses and researching hormones and how they impacted the body and weight loss, for women in particular. And while how we eat and exercise is important, so is our lifestyle and the way we choose to live our lives. Balancing hormones may sound complicated and it can be but simple self-care works wonders for many of us. Now I am post menopause, my attention has turned to starting to exercise again in my fifties.
Working out how to workout in your fifties is different for everyone
Streaming Masterclasses
The masterclass videos on the challenges are streaming videos.
There is roughly 2 hours of videos to watch
Progressive push up programme
This challenge is progressive and is tailored for post menopausal women who are getting back into exercise after a break
downloadable pdfS
There are PDF's available to download to help you track and measure your both progress and where you need to join the dots
How long does this challenge take?
It depends!
There are 3 different challenges which are complimentary and run alongside each other.
Post-menopause means you may need to pause and start again if your symptoms reappear.
The challenges have structure and flexibility to allow for this.
You could do this challenge in 12 weeks if you have a consistent exercise routine already.
However, if you are doing this to help motivate you and develop a new exercise routine post-menopause, I would recommend a year. Take your time and develop good habits
The push up challenge runs alongside your current exercise routine
I expect your current exercise routine in the gym is quite a general one post menopause, and push ups are just one exercise in your routine.
So in that sense it wont take up time as you are exercising already, it's just one to focus on
This challenge is for you if:
You have exercised extensively before menopause
You have done push ups in the past
You don't have any injuries or medical conditions that need specialist care
You have a slow and steady approach to exercise when you are first post-menopause
you are willing to do the work to figure out how to exercise after the menopause which is different to before the menopause
This challenge is not for you if:
you are already consistently doing push ups every week
you are looking for a quick fix
you want me to tell you what to do and when
you have never done a push before
you have a medical condition that needs specialised exercise programme
What happens after I buy?
The Push up Challenge V5.0 lives on Wellbeing-Alchemy.com
Grab a cup of tea
A notebook
Your current exercise routine and plans
Watch the on-demand workshops
Update your current exercise routine and plans to include the 2 push up challenges
Let's get to work!
Got a Question?
If you have any questions please click to email