A refreshing and relaxing workout concentrating on building core-strength, improving posture and balance. It helps to reduce tense muscles by stretching.
the class starts with basic Pilates moves to improve body awareness;
it will improve your core strength;
assist with breathing control;
improves posture;
corrects muscle imbalances;
improves mobility in hips and shoulders and
we also work on improving balance & coordination.
Please note the classes are not suitable if you are pregnant or post-natal.
If you have any injuries or an illness can you please get in touch before booking to ensure the class is appropriate for you.
I can't recommend Sam's classes highly enough. I have attended a number of different Pilates classes and this is the best by far. The personal attention from Sam ensures that each movement is done correctly and there is nowhere to hide in the small classes! The pace of the class is somewhat slower than I was used to but it works the muscle groups in a more controlled, deeper way resulting in more effective exercises. I have noticed a big difference in my core since starting last year. Maire K.
Small Classes
Fed up with big Pilates classes and not sure if you are doing it right?
Come along to a small class and feel the difference!
Foundation
Learn the foundations of Pilates exercises and be able to listen to your body and learn how to adapt exercises for your needs
Progress
My classes are progressive, which means each 4 week block has a specific focus and new exercises for you to learn.
Pilates has many benefits and goes much deeper than just core strength:
Relaxation: the focus on breathing helps to slow the class down and aid relaxation to the body
Consistency: classes are easy to adapt for tiredness as well as aches and pains which makes it easier for you to attend regardless of how you are feeling
Brain Fit: learning new exercises is a great way to keep the brain fit too
Ageing well: Pilates is a method of exercising that you will be able to do as you get older
Shape: a toned waistline helps keep your hourglass shape
Flexibility: Pilates exercises are design to help improve your flexibility
Balance: My classes always include a wee balance exercises which is a beneficial for ageing well
Health History Form
If you are new to the class or returning after more than a years absence, please download and complete the Health History Form and bring it with you to your next class
I have really enjoy the classes. It has been a real luxury to take time out to focus on strengthening, relaxing and tuning into my body. Although the sessions are tailored for horse riders, they are appropriate for anyone. As a result of the classes I am generally more aware of my body. In particular, my posture and core strength is much better and I even feel taller! With Sam's helpful, calm and consistent instruction, I feel that I finally understand the subtleties and tremendous benefits of pilates for my mental and physical health. Martha G.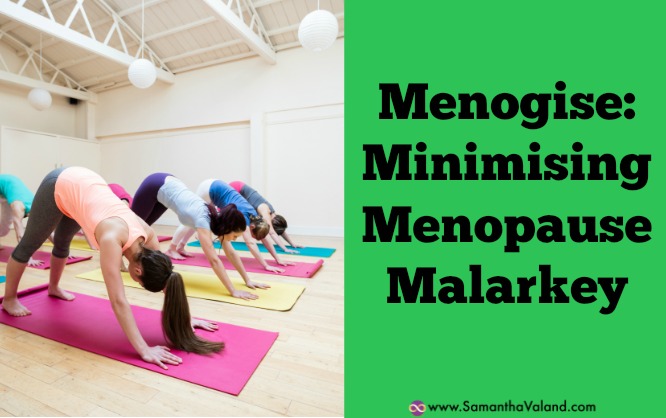 Looking around at the fitness classes that are available to me approaching 50, there appears to be a big jump from standard classes to silver surfer classes with not much in between. So, I have created a class that I would like to attend! Menogise is a class for women...
read more