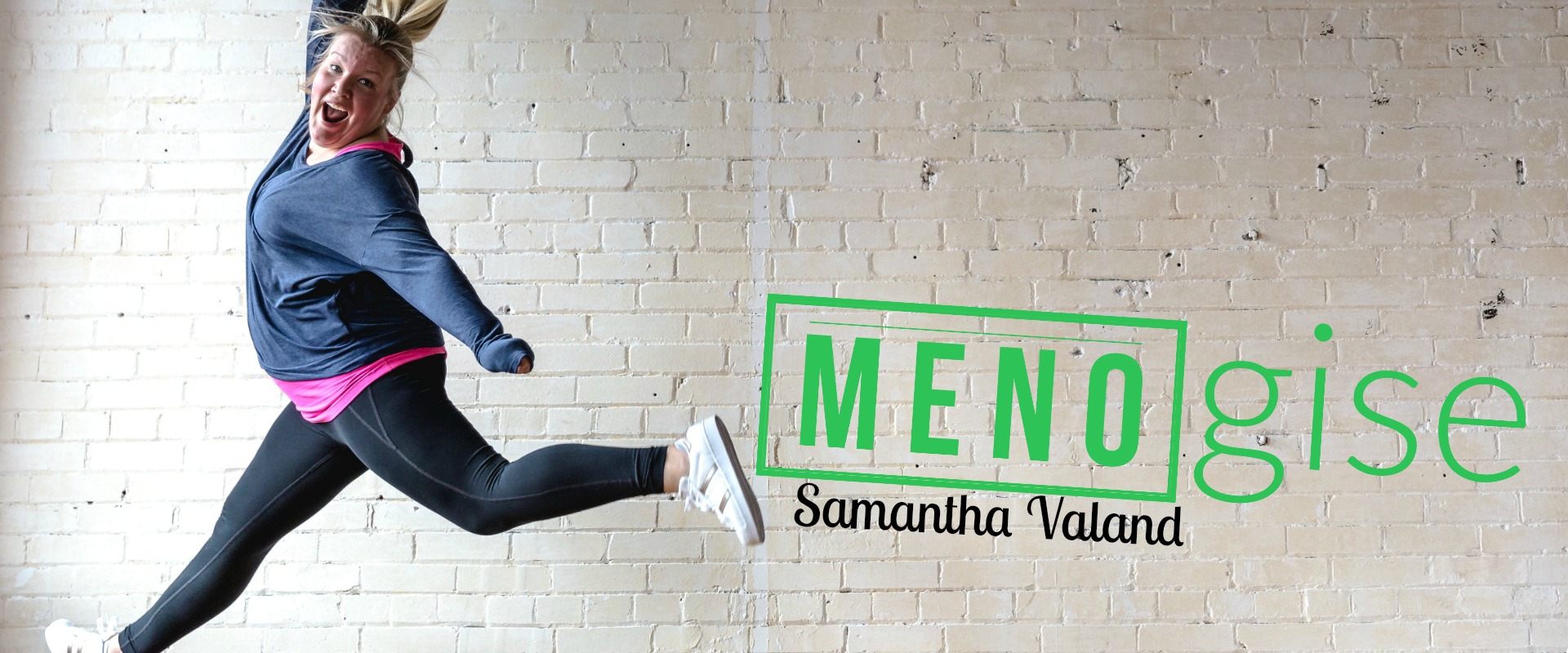 Menogise: From Menopausal Tired to Energised!
Do you want to change how you get out of bed in the mornings?
The menopause is exhausting. The thought of exercising may be enough to send you to your sofa, but you also know it's one of the best ways to energise you!
Tiredness is one of the most common symptoms of the menopause. It can be from symptoms such as hot flushes and night sweats or waking up in the wee hours of the morning and can't get back to sleep.
If you keep hitting the snooze button you have less time to get ready in the mornings and all you good intentions about food planning and doing some exercise in the morning just goes out the window as you focus on getting to work on time.
It creates a spiral for the day and it feels like you are always on the back foot and can't quite catch up with yourself.
You haven't had time to eat breakfast so you grab what's easiest with a coffee to go rather than the healthy nutritional breakfast you had planned. As you are also watching your waistline, you become annoyed at yourself for the extra calories you didn't want to consume.
Tiredness can leave you feeling a bit moody, as in you just exercise when you feel like and just thinking about your usual exercise routine is too much effort. But the lack of exercise is making you feel as stiff as a board and you miss it and the feeling you get at the end of a good exercise session.
At some point you may start to think about what you can do that is manageable for you.
You may have heard that Hatha yoga is great for reducing stress and improving energy levels, but, it's yoga! The classes are either early in the morning or late at night. They are usually 90 minutes long (eye roll) who has time for that never mind the energy for it!
I have cherry picked the best bits of Hatha yoga for supporting the menopause and reducing stress levels, that you can do in the comfort of your own home. No chanting, no headstands, no fancy yoga pants unless you want to wear them!
Can just 5 minutes on your mat, make a difference to how you feel and your energy levels?
Most definitely if you are picking the right things to do. I have brought together Menogise, a 4 week digital programme. No matter where you are in the world you can do it and part of a community who have the same issues as you have with energy levels and lack of oomph to get going. It has a wee bit of Hatha yoga, with gentle stretches and Pilates exercises added in.
Yoga classes can be intimidating for many reasons, from the language used – some teachers will only use Sanskrit names for the yoga poses. To the fact there are super bendy people in the class and you can't touch your toes, to breaking wind in the class and everything in between. It is easy to feel awkward and a newbie.
Trying out new things in the privacy of your own home, feels a much safer option.
If you do not feel in your best physical shape, it can affect your confidence and trying something new may feel you are stretching yourself a bit too much mentally as well as physically
~Get back into a regular exercise habit starting with gentle stretches that take just 10 mins max
~Start connecting your mind and body and tune into what works for you in this phase of your menopause
~Have the confidence to perform gentle exercises and stretches knowing they are reducing your stress levels and providing you with much need energy boost.
The menopause forces change that you often didn't expect. Manic mornings and maintaining a healthy lifestyle can feel difficult if you can't attend your favourite classes because your energy levels are fluctuating.
You have a muggy head or brain fog and you know you are not always making the best choices because of that. You are picking the easiest choice for dinner rather than the healthiest choice. You may feel that you are letting yourself down, but don't quite know how to get out of this tiredness cycle.
It can be easy to let things drift with a mañana attitude. 'Tomorrow I'll go to the gym as I'll be more energetic then'. To keep put things off, but also knowing deep down, that crashing on the sofa with Netflix isn't going to make you feel better.
I have created this programme in bite-sized chunks. Everyone has 5 minutes to do a wee something for themselves. If you meet me halfway on the mat, you will probably do 10 mins!
You can make some amazing changes in just 4 weeks when you keep it to bite-sized manageable chunks but are consistent with getting on your mat every day.
I work with women to create a healthy lifestyle that is true to themselves and takes them through the menopause and helps them age with attitude.
My interest in wellbeing and weight loss was sparked in my early 30s when maintaining my weight was suddenly not quite as easy as it was in my 20s. Around the same time close family members were prescribed drugs for high blood pressure and cholesterol problems. Like most people, taking medication was something I wanted to avoid. I became interested in the concept of 'eating yourself healthy' and how lifestyle affects a person's health. This curiosity has never left and has evolved to include how we are choosing to age, as we get older.
In 2006 I trained as Pilates teacher and Personal Trainer and in 2017 completed my Hatha Yoga training (You can find my qualifications here). I teach gentle but effective Pilates and Hatha Yoga classes
What do you actually get?
Content
Masterclasses and Exercise/Stretch videos you can watch in your own time and as frequently as you want.
Group Coaching
We will gather together each week to discuss weekly progress and any questions you may have.
Community
A group of like-minded women going through the menopause and trying to be as healthy as they can. You'll find women to chat to who get what you're talking about
My Support
I'll be in the group support you as you go through the programme, every step of the way. This isn't like buying a fitness DVD and leaving it on the shelf!
Week 1: Getting on Your Mat
This week, we focus on you getting on your mat for 5-10 minutes and creating a home practice. Concentrating on the practicalities of getting on the mat and making it a regular habit that is easy for you to do. There are a selection of videos between 5-10 minutes with gentle stretches or breathing exercises for you do to which will help to energise you. We check in with our home practice each week of the course duration.

Week 2: Stress, Exercise and the Menopause
How does stress affect you during the menopause and how you exercise? This module explains what happens to you body under stress. How stress may exasperate your menopause symtoms and reduce your inclination to exercise even though you know it is good for you. We look at what types of exercise supports your menopause and why.
Week 3: Menopause Mornings Makeovers
One of the most challenging, most common and also the most ignored problems with the menopause is the affect it can have on your mornings. If you are not sleeping well, then you are most likely to hit the snooze button which means you have less time to get ready or out the door. We are looking at how to improve your mornings.
Week 4: Mind Body Connection
The menopause changes your physical body, as well as how you think and feel about getting older. Connecting your new mind and your new body so you can age well is a very deliberate process. This is our wisdom week.
Bonus Masterclass
'What is the Menopause?' this masterclass is the perfect place to start so you can tune into your menstrual cycle from the get go.
Bonus Planner
'Your Menopause 2019: Lifestyle Planner' The menopause can be a difficult transition. If you are looking for a roadmap to help guide you to make the best changes for you, then I have created 'Your Menopause 2018 – Lifestyle Planner' just for you!
We start on Friday 8th Feb. You can join at any time and have access to the Bonus material before we start
Here is one of my clients talking about our coaching sessions:
"Three months ago I was feeling dreadful. I was desperately seeking a fix and swinging from bread to fruit to chocolate to make myself feel better. Within a couple of weeks of following Sam's advice I was feeling so much better (and looked trimmer) and had more energy. I have learned so much about blood sugar swings and how to manage my body. Increasingly I feel I am in control of my eating regime and that sensible weight loss is happening surely and steadily. My life is a little complicated but Sam is never judgemental and the coaching sessions are keeping me focussed on my long term objective of feeling better and losing weight." Barbara
How much time will this take?
There are activities for you to do each day if you choose. They average from 5 to 10 mins. It's up to you how much time you spend on the activities.
There are masterclasses you can watch on YouTube as often as you wish. Each masterclass has the time next to it so you can easily see how long it runs for.
What does a 'on demand' and 'self paced' course mean?
As soon as you buy this course you have access to all of the content. It is not drip feed on a weekly basis as we all have quite different schedules.
'Self paced' means you take it in your own time whether you spend a Saturday morning reviewing the weeks content or pop in every day to watch a video, it's all up to you.
How do I find the private Facebook group?
Once you have signed up for the course you will get access to the Facebook group. You will find the link on the main page of the course.
What technology do I need for this course?
Please check that you can watch videos on YouTube.
What if I can't make the live Group Coaching ?
All the Group Coaching will be available on replay. You can ask questions in advance and I will answer them on the call for you.
This course is for you if:
you are looking for simple everyday practices that will fit into your everyday routines,
you are interested in taking the time to work out what works best for you,
you are perfect just as you are, we are just polishing up a few rough edges
you think this is a priority for your self care and will make time to listen to the videos and perform the stretches regulary
you are prepared to dig into the gap between your healthy intentions and your actions to be able to make changes
fed up being a moody exerciser, moody eater, just plain moody!
This course is not for you if:
you have a complicated medical history. Please get in touch if you would like more infomation about 1-2-1's
you are looking for one size fits all solution
you have injuries and would be better suited with a 1-2-1 where someone has their eyes on your technique and can correct and adapt exercises for you. Please get in touch if you would like more infomation about 1-2-1's
you don't have the mental energy to make changes
Looking for Menogise Classes in Edinburgh?